SAVE THE DATE! Saturday, October 15, 2016

The Poshard Foundation for Abused Children Fall Brunch at JALC

Greetings! Please save the date of Saturday, October 15, 2016 from 8AM to 11AM for our annual Poshard Foundation fundraising event at JALC.
We will be having a brunch, silent auction, and live auction this year. The funds raised will be used to help abused children in southern Illinois.
We are grateful for your past support and would love to have you join us again this year!
---
FOR IMMEDIATE RELEASE
April 27, 2016
For more information contact:
Jo Poshard
Poshard Foundation for Abused Children
(618) 985-2828 ext. 8564
joposhard@jalc.edu
www.poshardfoundation.org
The Poshard Foundation Announcing 29 Grant Awards totaling $100,000 to Southern Illinois Agencies Serving Abused and Neglected Children
Carterville, IL - As part of Child Abuse Prevention Month, Jo Poshard, Director of The Poshard Foundation for Abused Children, will announce grants for $100,000 at a press conference on Friday, April 29, 2016, 1:00 p.m. in the Board Conference Room at John A. Logan College.
Because of the continued withholding of state funds to local agencies which provide services to abused, abandoned, and neglected children, the Poshard Foundation will distribute $100,000 to these agencies.
This year's grants represent more than a $30,000 increase over the expected $70,000 distributed in previous years.
A total of 29 grants will be given to Southern Illinois agencies to be used specifically for services directly dealing with the abused, abandoned, and neglected children in our region. Those organizations are: Baptist Children's Home, Carmi; Boys & Girls Club of Carbondale; Cairo Women's Shelter; Caritas Family Solutions, Carterville; Caritas Family Solutions, Mt. Vernon; CASA of Franklin County; CASA of Jefferson County; CASA of Saline County; CASA of Williamson County; Centerstone; Children's Home and Aid, Herrin; Children's Medical Resource Network, Anna; Department of Child and Family Services , Southern Region; Family Counseling Center, Golconda; Hoyleton Ministries, Hoyleton; Lutheran Social Services of Illinois, Marion; Lutheran Social Services of Illinois Prison & Family Services, Marion; Mentors4Kids, Harrisburg; PAVE, Centralia; Perry-Jackson Child Advocacy Center, Pinckneyville; Pregnancy Matters, Carbondale; The Amy Center, Mt. Vernon; The Guardian Center, Carmi; The Night's Shield, West Frankfort; The Women's Center, Carbondale; Two Rivers Child Advocacy Center, Anna; United Methodist Children's Home, Mt. Vernon; Williamson County Child Advocacy Center, Herrin; and Williamson County Family Crisis Center, Herrin.
Jo Poshard noted, "Proceeds from the 2015 Poshard Foundation Brunch made these grants possible. We are very grateful to each of our donors." Poshard continued, "As Child Abuse Prevention Month winds down, it is clear that thirty days isn't enough time to sound the alarm for abused children in our region. Child abuse is on the rise in Southern Illinois."
Agency representatives will comment briefly on their grant projects and will be available to the press.
Glenn and Jo Poshard, co-founders of the Poshard Foundation, believe every child deserves a safe person, a safe place, and a safe community. Unfortunately, that is not the reality for many of our children in Southern Illinois. The abused, neglected, and abandoned ones are those the Poshard Foundation seeks to help. Whether it is by providing counseling, cribs, therapeutic camps, supplies for college-bound foster children, or training for the prevention of violence against children, the Foundation strives to make a difference in young lives.
For more information contact The Poshard Foundation for Abused Children at (618) 985-2828 ext. 8564 or email joposhard@jalc.edu.
---
Rent One's Region 2 and Rent n Roll(Marion) Great Expectation Foundation, founded by Owners Larry and Sharon Carrico, donates to the Southern Illinois Poshard Foundation for Abused Children as their Charity of Choice in 2015.
The Poshard Foundation was founded by former U.S. Congressman Glenn Poshard and his wife, Jo. Glenn and Jo stated, "This generous donation from Rent One will allow us to purchase beds for children in southern Illinois who are presently sleeping on floors and couches. These children have already suffered from abuse, abandonment, neglect, and frightening circumstances.
Beds purchased with "Beds for Kids" donations will provide a child something he or she may never have had before - a safe and warm place to sleep." "We are also grateful for the assistance Rent One has provided for car seats for high risk, impoverished families.
Because of the expense of car seats, very few programs and agencies are able to offer this equipment to families in financial need. With these funds we can purchase car seats which, in turn, will be provided to our local agencies in order that a child has a safe way home from the hospital and a safe way to travel."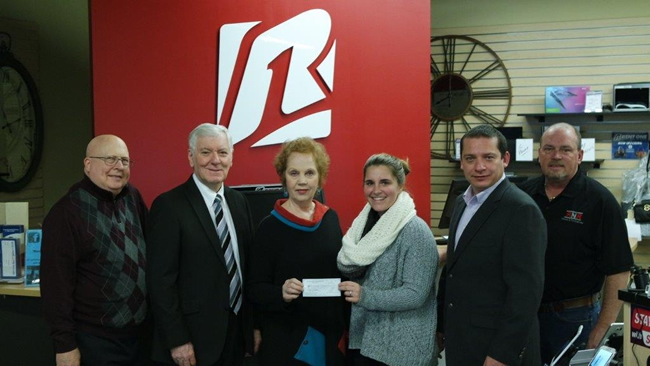 Pictured during the donation presentation, L-R Vic Turner, Poshard Foundation Volunteer, Congressman Glenn Poshard, Jo Poshard, Rent One's Region Director Kelly Martin, Vice President Mark Williams and Rent n Roll President Rich Bergman
---
Please help us raise money for abused, abandoned, and neglected children in Southern Illinois, with a secure credit/debit card donation.